Brainstorming – the corporate activity with colorful sticky notes might look like child's play, but there is a reason companies like Amazon and Apple swear by it. Brainstorming is a great way to increase collaboration and accelerate ideation and development. But at a time when social distancing is prescribed, the only option we have for this group activity is virtual brainstorming. This is where the tried and proven methods for successful brainstorming are slightly challenged. 
In our agency, the work is highly dependent on collaboration and creativity is highest when the team has the opportunity to brainstorm together. So in the past few months, we had to figure out how to run virtual brainstorming sessions effectively. We had to overcome a few challenges in the process. So you won't have to, we are sharing our top tips on having a successful brainstorming session with your team.
#thisishowwedoit
How to run a virtual brainstorming session? 
VIRTUAL BRAINSTORMING TIP 1 –
Prepare in advance 
It's important to schedule every virtual brainstorming session in advance. Everyone who is participating should clear their schedule for the set time, and disengage mentally as well (close all the tabs on their screen and in their mind). It's also important to brief everyone about the topic and agenda of the brainstorm session.

Sometimes it is useful if the teams receive short tasks before the virtual brainstorming session so they can focus and prepare beforehand and have constructive ideas. This means that before the brainstorming session starts, the team members have time to brainstorm individually – giving the brainstorming an explosive start. 

VIRTUAL BRAINSTORMING TIP 2 –
Timebox and facilitate
Setting a time limit for each session is key for sustaining the high energy of the workshop. The virtual environment limits body movement, so this poses a big challenge. While for real-life brainstorming we recommend a maximum of 3 hours a day, for virtual brainstorming, the limit is at 2. Sometimes, sprint sessions of half an hour can generate great results too.

During the brainstorming session, it's important to have a facilitator – a team member whose job will be to keep time and lead the activity. And when it comes to virtual brainstorming, it's imperative that he has an excellent internet connection.
VIRTUAL BRAINSTORMING TIP 3 –
Limit the number of participants
The goal in every brainstorming session is to give everyone the opportunity to speak their mind and actively participate. Speaking out of turn is to be expected, but in a virtual environment, that can present as a challenge.

It's difficult to create room for everyone to speak, especially in a limited time (although, not impossible as IBM proves with their famous (Innovation Jams). In our experience, the ideal number of participants for a virtual brainstorming is between 4-10. It's possible to have a brainstorming with fewer or more, but the idea flow will either be too narrow or too overwhelming.
VIRTUAL BRAINSTORMING TIP 4 –
Choose proper tools
When it comes to virtual brainstorming, the rights tool can make all the difference. Choose the platform that best suits the goal – messaging platform/video call / online whiteboard, etc.

Make sure to prepare everything before the session starts, share access with the participants, and prepare onboarding guidelines if this is their first time using the tool. There are some really cool tools for virtual brainstorming that can help you brainstorm in a smooth, visual way. Our favorite has been the online whiteboard Miro!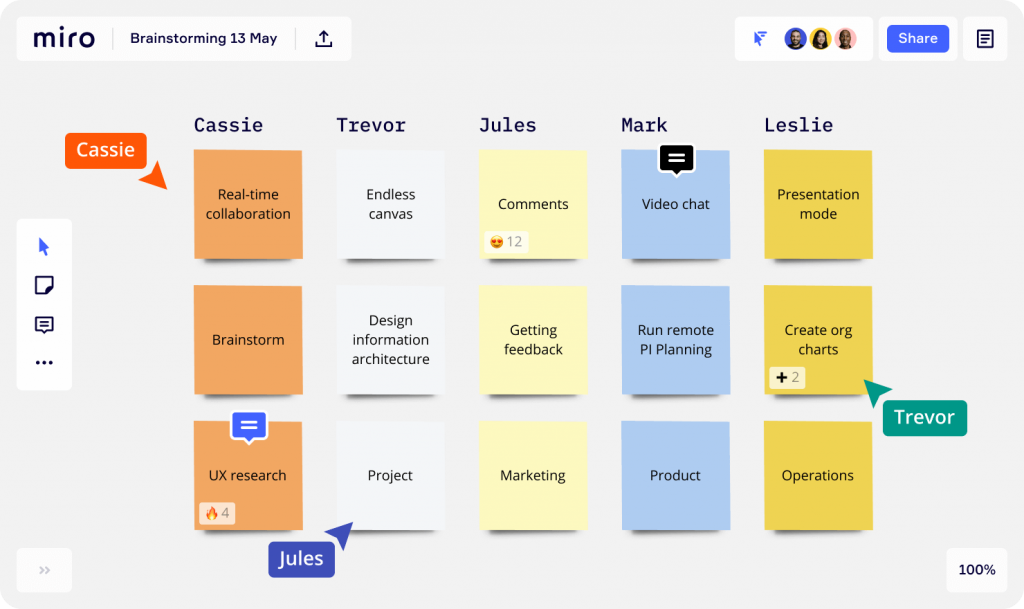 VIRTUAL BRAINSTORMING TIP 5 –
Successful brainstorm results in actionable steps
Throwing ideas around is fun, but it's only effective if it leads to a tangible outcome. That's why as part of your brainstorming session, you should encourage the team to come up with an action plan and divide tasks for all members included in the brainstorming. That way you ensure that the brainstorming session will lead to real results.

Setting actionable steps is even more important now while most of the teams are working remotely. The tasks should have a deadline and will ensure codependency and increase accountability. And most importantly, the ideas that were generated will come to life, driving future collaborative action among the teammates, and as a result, growth for the whole company. 
Now you are ready to start brainstorming! There are many benefits to brainstorming other than material goals. It really keeps the team together in these desperate times and creates room for innovation when it's most needed.

If you liked this article, check out our Free E-book on Creating the new tomorrow – Starting today! And if you'd like expert help in facilitating your own virtual brainstorming session, give us a holler. We specialize in helping companies grow, and we believe the best way to do it is from the inside, out!