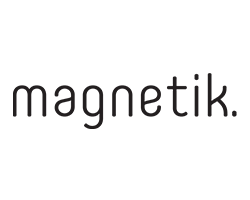 As digital trends are rising, customers' shopping habits evolve. Buying behaviors and patterns constantly change, and to remain competitive in the fashion industry, retailers need to innovate on a daily basis. E-commerce platforms and online shopping has been on the rise in the past decades.
Magnetik, the leading luxury fashion retailer in North Macedonia, founded in 1992 today owns and operates 25 stores in its capital, Skopje. For the past 28 years, Magnetik has worked hard to deliver the best possible shopping experience, helping customers possess style – not just buy fashion.
In 2014 as the company doubled revenues and expanded in fast-fashion, Magnetik needed to redefine the brand strategy and holistic communication strategy in order to retain its positioning. Aligning communication with different customer segments, repositioning as a fast-fashion retailer while maintaining the luxury brand image, and inevitably digitalization became the company's three top priorities.
In 2016 they came to Solveo with a single intent – 'we want to build a long-lasting brand legacy and build a company that our customers will grow old with'. Focusing on an end-to-end customer journey, and designing a unique shopping experience across all touchpoints was the primary goal.
In order to shape the company's future during the rapid growth and expansion, they understood that they needed a new way of working across the company, especially with the customers. With the increasing competition, the company needed a more open, design thinking approach towards building the brand. Embracing co-creation was the very first step of the journey. Both companies' teams worked together to analyze and understand users buying behaviors and discover new patterns. Involving the customers as well as the employees in the process uncovered new business opportunities.
New strategic approach
The new strategic approach required building strong and powerful relationships with the customers on a higher brand level and crafting deeply personalized approaches and activities that would be valuable for the clients. Designing experiences across the company and across all channels, and maintaining communication consistency is a daily challenge that our teams tackle. The agile and lean approach allows us to reshape and improve the brand experience while focusing on the company vision where together we are building a strong brand legacy that the customers will grow old with.
New customer segment engagement
Entering the fast-fashion retail segment led to an immense shift in the customer segment. From mainly luxury fashion, Magnetik expanded to a new area that involved new personalities, and different buying behaviors. However, the goal remains the same; building a holistic brand experience that our customers will simply fall in love with.
Solveo's innovation team through thorough research, a series of workshops and interviews, discovered a slightly different pattern in this segment – the need for total digital presence and building relationships across all digital channels. We devised a creative strategy for all social media channels, fashion blogs, emails, media,  where all the customers and brands meet. The omnichannel strategy included: social media management and advertising strategy as well as creative campaigns like pools, giveaways, collaborations with influencers, interviews, and employee branding. Our teams executed various activities on a daily basis that help build the brand's vision.
New digital experiences
With digitalization, personalized shopping experiences become more scarce. Customers are overwhelmed with e-commerce websites and millions of products, that they lose touch with in-store experiences and personalized shopping. However, with the 2020 pandemic customers are almost forced to switch to online shopping. From an improved online shopping experience to virtual assistants and personalized online shopping, Solveo's innovation and marketing teams continue building the brand's vision.
Together in this multi-year collaboration and immense shift in buying behaviors, our teams work on building personalized and unique shopping experiences, both offline and online, where our customers are in the heart of everything that we do.