With the demand for digital services high and still growing, the number of tasks and projects businesses have to execute is also on the rise. Digital teams have new tools and task prioritization methodologies to make their lives simpler, but also new and more complex challenges. 
According to The State of Marketing Agency Industry in 2019 report by Promo Republic, 45% of the agencies that their biggest challenge was lack of time for completion of all the tasks. 
From my experience in working with digital teams, things tend to be very intense sometimes. Digital teams have a lot of deadlines they must meet and that can cause a lot of stress. Team members often get overwhelmed because they struggle to prioritize. 
Prioritizing is very important when you work in a dynamic environment. Knowing where to start can be a lifesaver when you have tons of assignments. 
Another problem that arises is distractions. With companies being dependent on social media and emails, it can become really hard to focus on a task and execute it smoothly. The digital age we live lowers our focus and the ability to cover all the details in order to do a job-well-done.
Despite all these struggles, there comes a time when every task and idea are highly important. Clients don't care if you have trouble focusing, or if you need time to prioritize. They want the solution now.
This is when things get really tough. People with no or little experience can easily burn out in situations like that. But, we must remember that there's a solution to everything. To avoid this, follow these simple tips and share them with your team:
The Prioritization Grid
In my experience, the best solutions always come through Design Thinking. 
The design thinking methodology is famous for many things, in my opinion, hot shining enough light on the design thinking prioritization grid. It is a very effective method of deciding what to prioritize. The more diverse your team is, the more effective this method can be.
You can divide the activity into several steps:
Prepare
Task prioritization is just as important as the ideas you put on the table, so make sure you have a good set of ideas to prioritize. A great way to do this is with the help of the revolutionary technology of sticky notes.
And don't worry to save them, encourage your team to write as many ideas as possible. Some will be terrible, but some will be brilliant and you will know what to focus on. Don't hesitate to eliminate timewasters – focus on the ideas that have the highest potential for ROI.
Set up
The next step is to prioritize. This grid will be your best friend in this step: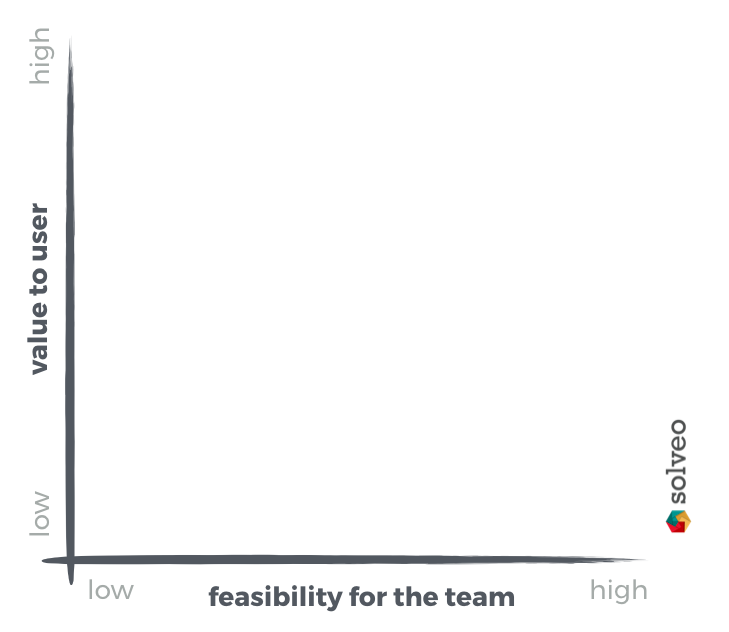 Evaluate
Now is time to discuss and decide together as a team, which idea will be placed where on the grid. Have everyone assess each idea quickly on their own, and start discussing your opinions.
This is where the advantages of having a diverse team begin to show as everyone within the team will argue from their own perspective. Be patient and guide people to the smartest solution by sharing past experiences and eventually everyone will come to an agreement. 
Prioritize
In this step, employees should move their ideas based on how they think they should be prioritized. This is where you should draw the design thinking prioritization grid, which should look like this: 
An early version of this prioritization grid was created and used by the 34th President of the United States, Dwight David Eisenhower. He was quite a busy guy, making this a tried and true method of task prioritization.
Regroup and discuss
Focus on the sticky notes you've put in the upper right quadrant and discussing them making concrete and effective plans of action. These are the things that require the most effort but will bring the highest impact at the same time.
The goal here is to get to a consensus as a team about your priorities and how you can work together to maximize your time as a business.
Once the top priority tasks are done focus on the tasks in the two yellow boxes. Try to disregard everything in the red.
What if you can't dismiss anything?
The design thinking grid is a great way to determine and focus on what is most important. But sometimes, there are simply too many tasks that absolutely have to get done. This is where you need to decide what can be outsourced and find a trusted agency or company to do it for you. 
How to know when and what to outsource? 
First, think of your team's efficiency. Through outsourcing the activities are low impact and high effort to another agency, you can free up time to focus on what's most important both for your company and your clients.
Surely you like to improve your team's skills. Maybe you have an understanding of several industries, but you lack expertise in others. Here's where outsourcing can help. You can outsource tasks to people who have expertise in areas you don't.
This is especially applicable to the IT industry, where you can hire outside developers to help you with a particular programming language you don't regularly use. 
Finally, think in terms of growth. Outsourcing tasks that aren't so crucial can leave time for your team to focus on new client acquisition and customer relationships, which should be your priority.
Task prioritization is key for business success and failing to prioritize wisely can cause more than just headaches and stress. The design thinking prioritization grid is one of the best ways to deal with the dilemma of prioritizing. But don't forget that in order to prioritize cleverly, you need to know your strengths and weaknesses. Find out what you can do best and outsource the rest.